Shortlisted for Wales HR Awards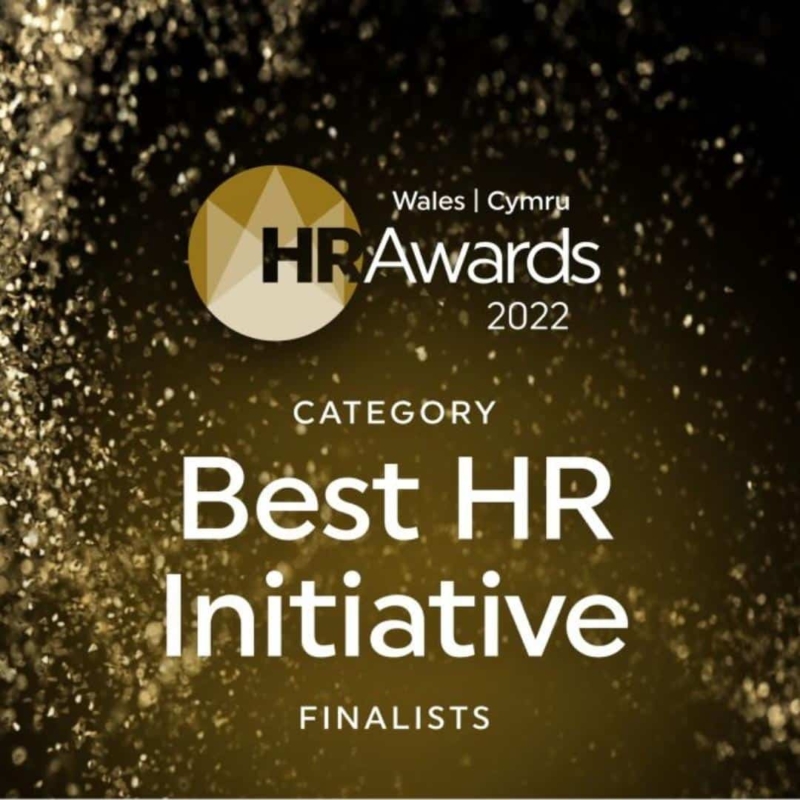 We are thrilled to have been shortlisted for the Best HR Initiative in the Wales HR Awards.  Victoria Panagakis, Sales & Marketing Executive, Sophie Mamaladze, HR Administrator and Megan Bell, Employment Law Paralegal will be representing HR Anchor at the Wales HR Network, HR Awards 2022 event on Friday 8th July.
HR Anchor was nominated for its contribution during the Covid 19 pandemic.  As the world was changing into unchartered territory the world of business became even more complex.  Rules were changing by the minute, laws were being made, businesses were forced to close, and furlough, a previously unknown term, was instantly known by every household across the UK.
Businesses were stuck.  They didn't know where to turn, or what to do.  In our locality, tourism is a huge source of income for countless small businesses, the enforced lockdowns and closures left them fearing for their futures.  Most didn't have the funds to seek out legal support for the furloughing of staff, to keep updated on where they stood with the rule changes, and in later days one of the key sectors we work with, the care industry, the "no jab, no job" rules began.
HR Anchor was a brand new business just as the pandemic hit.  Rather than focusing on new business growth or profits, Elissa HR Anchor Director saw this as a time to give back to the local community.  Alongside her position as head of employment at Gamlins Law, forming HR Anchor and continuing her volunteering with the RNLI she was also very aware of the needs of smaller local businesses who needed support.
Businesses who were having to close, for an unknown amount of time, unsure of the ever-changing new rules and restrictions.  Elissa took it upon herself to be there for these smaller businesses.  She began making "common queries" videos which were circulated to local businesses for free.  HR Anchor designed and distributed lots of precedent documents surrounding redundancy processes, furlough processes, and compulsory vaccinations within care homes precedents, again circulated for free which ensured these local businesses were not only remaining within the law but also protecting their business and ensuring staff were always treated fairly.  HR Anchor supported over 1000 businesses over the first 12 months of the pandemic, offering up-to-date advice, and providing useful information to businesses which they could use without any strings attached.   This ethical stance meant that businesses survived the pandemic, without firstly making costly mistakes, but also without having to pay for this support which could have also put them out of business.
We received feedback about the support received from HR Anchor during the pandemic.  See here what they had to say…
Ashley Dexter, Hurricane Ecommerce
"The onset of the COVID pandemic created grave concern and unsettlement throughout most Companies, to which Hurricane was no different.
The need to act quickly and in line with ever-changing policies meant that constant HR advice was required to support our judgement calls, in protecting both our staff and our business.
Fortunately, we had recently appointed HR Anchor (Elissa Thursfield) as our HR Advisor and I cannot understate how amazing her support was throughout – which resulted in a number of staff being furloughed, but who all did return to work before the end of 2020.
Elissa has a unique ability to carefully balance all aspects of HR, from employment law to wellbeing, in order to provide the best advice you could care to wish for and was a pillar of strength for the whole Hurricane team throughout."
"The support and guidance Elissa provided to employers through complimentary webinars and virtual 1-2-1 consultations during the pandemic was phenomenal. During a very challenging period, Elissa selflessly gave up her valuable time in the hour of need of many, helping them to navigate unprecedented challenges in uncertain times. Having collaborated with Elissa to deliver numerous events in response to Covid-related HR & business challenges, it was heart-warming to read and hear the extremely appreciative feedback from those that benefited from the sessions, with some making critical business decisions from the advice provided by Elissa, in many cases helping to safeguard jobs and ensure employees were treated fairly."
Anthony Marshall, Odessa
"We were recruiting ourselves and doing all the HR admin in house but very quickly we realised we needed to concentrate on the business rather than the HR side of things.  With such quick growth it became apparent that the policies and contracts we had written ourselves needed checking over by a professional pair of eyes to ensure they were fit for purpose.  HR Anchor did this for us.  This gave me the peace of mind that we were acting within the lines of the law and they helped us make these documents more specific to our industry.  Easier for us and the employees.
Recently, HR anchor have been a god send with helping us with our HR issues.  The advice they have provided has meant that the whole situation has become less stressful.  Thank you Elissa!"
"We have been working with Elissa for just under two years now and throughout that time we have found her service to be friendly, professional, and very timely.
Like many companies, through the pandemic we were faced with a minefield of rules and regulations.  Whenever we needed assistance with interpreting some of the employment issues Elissa was always available.  She thoroughly researched new regulations and gave us a 'plain English' version enabling us to effectively communicate with our staff.
On a personal level I have found Elissa's 'no nonsense' approach refreshing, and I have no hesitation in approaching her with any employment issues no matter however trivial they seem."
https://www.hranchor.co.uk/wp-content/uploads/2022/07/Sophies-Tips-5.jpg
1080
1080
Victoria Panagakis
https://www.hranchor.co.uk/wp-content/uploads/2019/09/logo.png
Victoria Panagakis
2022-07-01 10:16:42
2022-07-01 10:25:18
Shortlisted for Wales HR Awards