How HR can support those reluctant to return to the office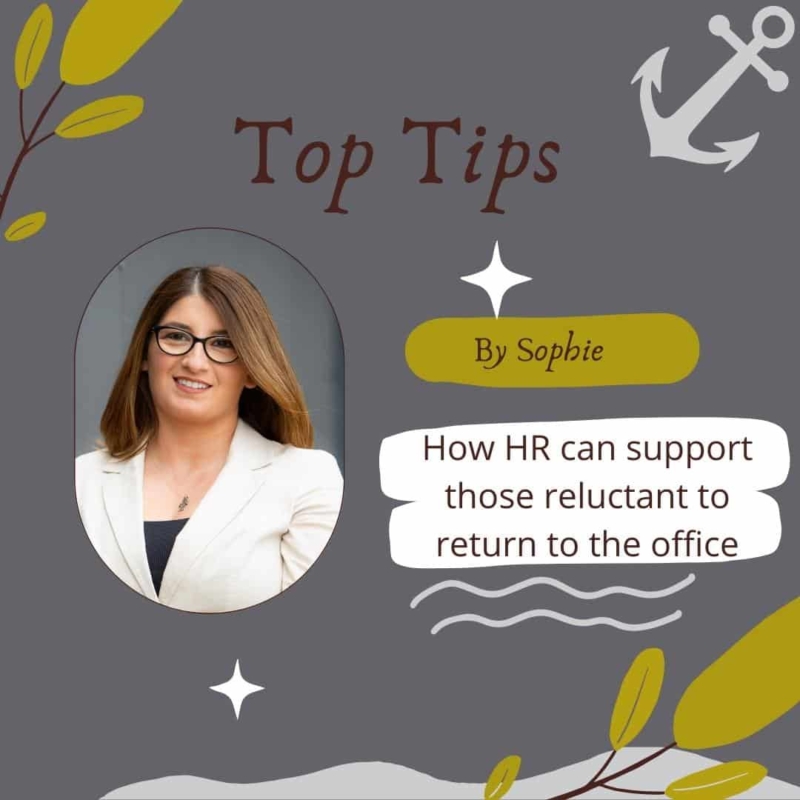 Top Tips
With almost two years of home working, many employees are hoping to continue remotely in the future and for many Hybrids working would be the way forward, where they split their time between home and the office. The reality nowadays is that probably 50% of the employees will want to work remotely or at least have an option for a hybrid working, however many businesses are looking to resume office life and want their employees back at their desks.
In this month's tips, I look at ways HR can support employers to encourage employees to get back in the office.
Promote safety and flexibility
Some employees still might be concerned about the safety in workplace. Make sure they know that all the health measures are in place at work, such as hand sanitisers, regular Covid testing etc. also some employees would feel better if they had flexible start and finish time, so they do not have to travel during a rush hour especially those who use a public transport.
Be inclusive and understanding
Not only create a safe space but be inclusive and understanding in the return to office plan you create. Remember that different people have different experiences, so be mindful of those differences. For example, someone who has to commute for 1.5 hours because they cannot afford to live closer to the office will likely prefer to work from home at least a few times per week to save time and money. Another employee might live close to the office but in a shared flat without a dedicated space for them to work, so they might be thrilled to work from the office five days a week.
Encourage a sense of community
Remote working comes with many benefits, from saving time and money on commuting to a better work-life balance. However, many people have reported feeling lonely when working from home. Having people come back to work and meeting their co-workers is an important step to helping people feel more included. The difficulty is that the length of the pandemic has created new habits, new morning routines, and they need to be changed back. Easing people back into the office is probably the best way to go. To encourage people to return, make sure socialising is a key aspect of their work lives.
Communicate clearly
For employees to feel happy about heading back to the office, they have to know what to expect, therefore, it's key for employers to communicate any changes and expectations before people return. An open, supportive environment will allow staff to speak up if they have any concerns or worries, which will help to build a trusting, healthier environment.
https://www.hranchor.co.uk/wp-content/uploads/2022/06/Sophies-Tips-4.jpg
1080
1080
Victoria Panagakis
https://www.hranchor.co.uk/wp-content/uploads/2019/09/logo.png
Victoria Panagakis
2022-06-28 09:09:54
2022-06-29 09:29:30
How HR can support those reluctant to return to the office