Sophie's Top Tips! How to be effective when working from home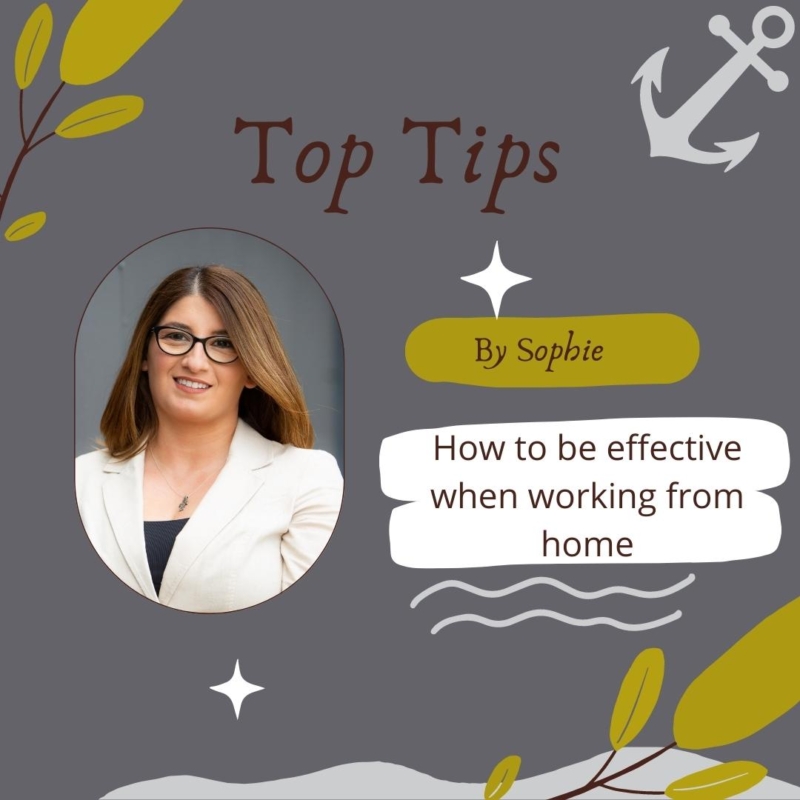 How to be effective when working from home
Sophie's Top Tips
COVID-19 brought remote working to the forefront of modern working practices, with it becoming a necessity rather than a luxury for the select few that had managed to secure it.
As we have become more accustomed to the practice and with hybrid working becoming more common, it is important to ensure remote working staff are not just out of sight and out of mind, but are part of an inclusive workforce. Not only is it important for productivity but also for the wellbeing of those who are working remotely.
In this month's tips I look at ways HR can advise those working from home, how to be productive and stay focused. The following as some tips you can provide to those who are working from home:
Stay focused
It is very easy to get distracted when working from home and it is up to you to try and minimise these as much as possible. Try to avoid working from bedroom, kitchen or in front of TV, in that way it is easier to stay focused on work, if it is unavoidable that you are working in a living space, try and make sure you have some separation from the space as a 'leisure' environment, so that you are in the headspace for work.
Make a dedicated workspace
When you have your own office room or any other work-from-home office setup, you bring a sense of legitimacy to your work environment. You are away from the temptation of doing anything else that is not work-related. Being in an environment that feels like work makes you automatically think and focus on work. When you remove yourself from the goings-on of your home life, you suddenly find yourself far less distracted and more focused than before.
Set Ground Rules with the People in Your Space
Set ground rules with other people in your home or who share your space when you work. For example, if you have children who study home or who come home from school while you're still working, they need clear rules about what they can and cannot do during that time. If you share a space with another adult who's working from home, you may have to negotiate quiet times, meeting times, and any shared equipment, like desks and chairs.
Move about and stretch regularly
Sometimes when we have lots to do due to tight deadlines we forget to stand up and stretch regularly. It is very important to take as little as couple of minutes every hour and just walk around the house or go up and down the stairs if possible. This will help to release the pressure from your muscles and minimize the chance to get Musculoskeletal disorder which is mainly caused by sitting all day. Remote workers without the habits of the canteen/watercooler or popping into colleagues offices often find themselves sitting for much longer periods.
Give yourself a proper break
Do not forget to press on the restart button and I do not mean on your laptops. It is important to take regular screen breaks. When having lunch try to avoid having it by your desk, if possible, spend some time outdoors, set a time to go for a walk, run or a bike ride for some fresh air. In that way you will return to your work all refreshed and ready for whatever challenge.
https://www.hranchor.co.uk/wp-content/uploads/2022/07/Copy-of-Sophies-Tips-.jpg
1080
1080
Victoria Panagakis
https://www.hranchor.co.uk/wp-content/uploads/2019/09/logo.png
Victoria Panagakis
2022-07-21 17:12:27
2022-07-22 16:48:14
Sophie's Top Tips! How to be effective when working from home